Our products can be used in a variety of industries and for various applications. For instance, the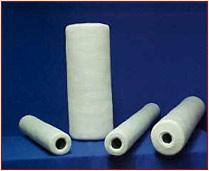 medical industry uses our knit tubing as sleeves that are used underneath casts to protect the skin. Some other uses for our protective arm sleeves are for pizza ovens or for other types of hot surfaces. We also manufacture collars and cuffs that are used for medical gowns and gloves. We are proud to supply tubing for the fire safety industry. Roll goods are commonly used as protective layers in fire safety garments. By ordering special fibers, we have the ability to match your specific color requirement .
Knitted Tubing
• Provided in roll or cut to your specifications.
• Can be manufactured in a variety of widths ranging from 5/8" to 12" and is available in the fabric of your choice: cotton, polyester, polypropylene, acrylic, kevlar, cotton/polyester blend nomex and nylon.
• Knitted tubing and sleeves are used for filtration:
paint, gas/oil, pipeline filters, jet fueland strainers.
• Our flame resistant protective sleeves are often used to protect against oven burns, and for fire safety items.
• Garment Industry: Trimming, collars, cuffs, covers, gloves, and mittens. All of our products can be supplied in the natural or colored fibers.
• Jersey tubes or sleeves are also often used in the medical industry as a protective layer used under casts to protect the skin.
Other products include:

gloves, mittens, industrial fabrics, nonwovens, strainers, small bags, socks, covers and filters.